Click on a thumbnail to see a larger image.
Northern Lights after a Summer Storm
Photo by Kim Walker, August 2015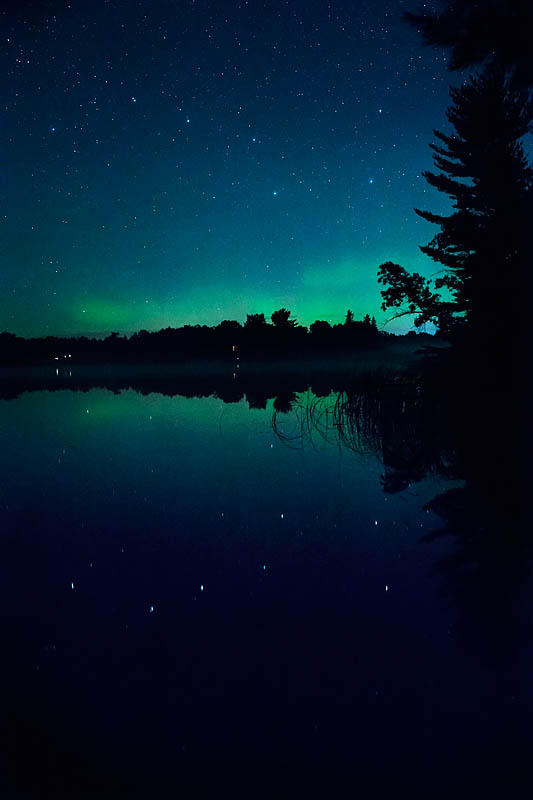 From Kim & David Walker's Travel Photography Blog
Ten Mile Waterfront in Winter
Photo by Tom Cox, Christmas 2013
The Ten Mile Monster
Photo by Jerry Unger's Daughter, June, 2010
Jerry writes: "We saw the note in the last newsletter concerning unusual sightings on Ten Mile. We were first made aware of the "folk" story when we purchased our first cabin on the lake over 30 years ago. It was known as "The Ten Mile Monster"and we were told many folk stories of who had seen this creature in the Boy River. Over the years we thought we caught some glimpses of strange things but never were sure of what we saw. During the weekend of June 26, this year, my daughter was kayaking in Robinson Bay and by accident got a picture of something strange. I have included the picture. It was taken looking NW from Angel Island toward the main shore in the far Western portion of the bay. She was out to get eagle pictures and got this one purely by accident as she was only intending to get a picture of her husband on shore.. I have enlarged the picture and compared dimensions and distances to items on shore and I estimate that the head of this creature is at least 12 to 15 inches wide! I don't know where the name Walter came from, because we have affectionately called this creature "TESSIE", similar to the Lock Ness creature!"
Jacob Shelton on the Dock
Photo by Darel Shelton, Chariton Beach, August 2008
Some 20 Ducks (Sept. 30)
Photo by Tom Cox, 2004
August Morning from East Shore of Ten Mile Lake
Photo by Tom Cox, 2003
Looking thru the narrows from near Bushes Point.
Photo by Mike Kistler, 2003
Afternoon on Ten Mile Lake
A panoramic view of Ten Mile
Photo by Geoff Cox, 2008
The old panoramic view of Ten Mile
Photo by Geoff Cox, 2000